Certifications and Accreditations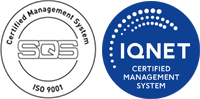 The Eucentre Foundation provides services constantly monitoring its business processes. The effectiveness of the adopted procedures, their constant application, the improvement, the organization of internal resources, have enabled the Foundation to obtain the Quality Management System certification in compliance with the standard ISO 9001:2015. Eucentre successfully underwent an evaluation by the Certification Body "SQS – Swiss Association for Quality and Management Systems", exclusive partner for Switzerland of "IQNET" (International Network for Quality System Assessment and Certification), the largest and most reliable network of certification bodies at world level.

Signatory of EA, IAF and ILAC Mutual Recognition Agreements
UNI CEI EN ISO/IEC 17025 accreditation – "General requirements for the competence of testing and calibration laboratories"
On 26 September 2017 the Eucentre laboratory obtained the accreditation in accordance with the standard UNI CEI EN ISO / IEC 17025 by the Italian Accreditation Body, ACCREDIA, signatory of the international mutual recognition agreements EA MLA (European co-operation for Accreditation Multilateral Agreement).
The EA MLA agreements allow conformity assessments issued by organizations accredited by signatory entities to be recognized in all major world markets.
By virtue of this agreement, the test reports issued under ACCREDIA accreditation are recognized and accepted internationally.
Accreditation certifies the quality level of the analytical activity of a testing laboratory, verifying the compliance of its management system and its competences with internationally recognized regulatory requirements as well as the mandatory legislative requirements, but it is not a guarantee by ACCREDIA of the results of the individual services performed by the Laboratory.
Complete schedule of accreditation
| | |
| --- | --- |
| IEC 62271-207:2012 | High-voltage switchgear and controlgear – Part 207: Seismic qualification for gas-insulated switchgear assemblies for rated voltages above 52 kV |
| IEC 60980:1989 | Recommended practices for seismic qualification of electrical equipment of the safety system for nuclear generating stations |
| IEC/IEEE 60780-323:2016 | Nuclear facilities – Electrical equipment important to safety – Qualification |
| IEC 60068-3-3:2019 | Environmental Testing – Part 3: Guidance. Seismic Test Methods For Equipment |
| IEC 60068-2-57:2013 | Environmental testing – Part 2-57: Tests – Test Ff: Vibration – Time-history and sine-beat method |
| IEC 60068-2-64:2008/AMD1:2019 | Amendment 1 – Environmental testing – Part 2-64: Tests – Test Fh: Vibration, broadband random and guidance |
| ISO 13033:2013 – 9.3.1-9.3.2-Annex G | NSCS Verification by seismic qualification testing |
| UNI EN 15129:2018 – only 5.4.4.3 – 5.4.4.4 – 5.4.4.5 – 5.4.4.6 – 5.4.4.7 – 5.4.4.8 – 5.4.5 | Anti-seismic devices – Temporary Connection Devices (TCDs) or Shock Transmission Units (STUs) |
| UNI EN 15129:2009 – only 5.3.4.3 – 5.3.4.4 – 5.3.4.5 – 5.3.4.6 – 5.3.4.7 – 5.3.5 | Anti-seismic devices – Temporary Connection Devices (TCDs) or Shock Transmission Units (STUs) |
| UNI EN 15129:2009 , UNI EN 15129:2018 – only 7.4.2.3 – 7.4.2.4 – 7.4.2.5 – 7.4.2.6 – 7.4.2.7 – 7.4.2.8 – 7.4.2.9 – 7.4.2.10 – 7.4.3 | Anti-seismic devices – Fluid Viscous Damper (FVD) and Fluid Spring Damper (FSD) |
Notified Body (NB-2533) to the European Commission, Reg. (EU) 305/2011, for EN 15129 – Anti-seismic Devices
Construction products, defined as products intended to be permanently incorporated into construction works, are governed by EU Regulation 305/2011 (CPR), which has repealed and replaced Directive 89/106 / EEC (Construction Products Directive – CPD).
The Eucentre laboratory has obtained the certification and the notification as a Test Laboratory (Notified Body at the European Commission with number NB-2533) pursuant to Reg. 305/2011, effective from 11.4.2014, with regard to tests on anti-seismic devices according to the harmonized standard EN15129.
The issuance of qualifications to Notified Bodies is carried out by the Superior Council of Public Works – Central Technical Service (STC) in agreement with the competent Offices of the Ministry of Economic Development and the Ministry of the Interior following an appropriate preliminary investigation, including inspections at the headquarters of the Bodies.
After the test phases, the CE marking of the devices is issued by a Certification Body of the product. The Eucentre Foundation is establishing a series of agreements with Notified Bodies and Technical Assessment Bodies to facilitate the marking process of anti-seismic devices.
The register of the notified tests performed by the laboratory is available for consultation at the following link.

Eucentre is founder of the Cluster SCC Lombardia
The Foundation Cluster Technologies for smart cities & communities Lombardy aims to bring together companies, research centres and the stakeholders who have the skills and resources to promote and facilitate research to support innovation, in order to design, develop and implement the most advanced technology solutions for the integrated management system of urban and metropolitan scale (with reference particularly, but not exclusively to renewable energy and energy efficiency, security and monitoring territory, mobility, health, wellness, e-government and justice, education and training, cultural heritage and tourism).

Centre registered in QuESTIO, the mapping of the active entities in the field of research and innovation
QuESTIO, Quality Evaluation in Science and Technology for Innovation Opportunity, is a tool conceived by the Lombardia Region to promote the innovation ecosystem as a set of different entities operating in the field of research and innovation through the mapping of research and innovation centres ( CRTT), Productive Activities and Lombardia Technology Clusters (CTL).
QuESTIO was created to provide visibility to registered entities and:
To survey the competences of the Research and Innovation Centres in order to identify "who does what" in terms of services offered and to describe how each Centre works through specific indicators.
To map expertise, infrastructures, networks and collaborations of Productive Activities operating in the field of innovation.
To promote the exchange of knowledge between innovation centres and productive activities, the development of collaborations and networks both within the technical-scientific community, and towards the business world and to promote the innovation services offered by individuals.