Department of Construction and Infrastructure
The EUCENTRE Foundation has been dealing for several years with the reduction of seismic vulnerability of reinforced concrete and precast structures, steel structures, masonry structures, timber structures and infrastructures.
The Department of Construction and Infrastructures is able to work on a wide spectrum, with a numerical and experimental integrated approach useful to the definition of guidelines and regulations, or to develop intervention priority for buildings and infrastructures.
The EUCENTRE Foundation's activities are addressed both to private industries and to public institutions, offering personalized solutions in accordance with the needs of customers.
The main activities carried out by the Department are listed below:
Numerical analysis of seismic behavior and support to the activities of the laboratory of structural and non-structural elements;
Development and support to the numerical and experimental activity for the study of innovative systems of seismic protection;
Numerical evaluation of the seismic response of precast or composite elements;
Evaluation of the seismic vulnerability of masonry buildings, numerical analysis to support the experimental activities and development of reinforcement techniques;
Numerical analysis of steel structures;
Numerical analysis of timber structures;
Support in the qualitative assessment of vulnerability of the building stock with the creation of a database (industries, universities, etc.);
Support in the assessment of seismic vulnerability and assessment of reinforced concrete and precast structures;
Numerical modeling of extremes events such as explosions, impacts and progressive collapses.

Support in the assessment of seismic vulnerability of industrial buildings in reinforced precast structures

Numerical analysis of steel structures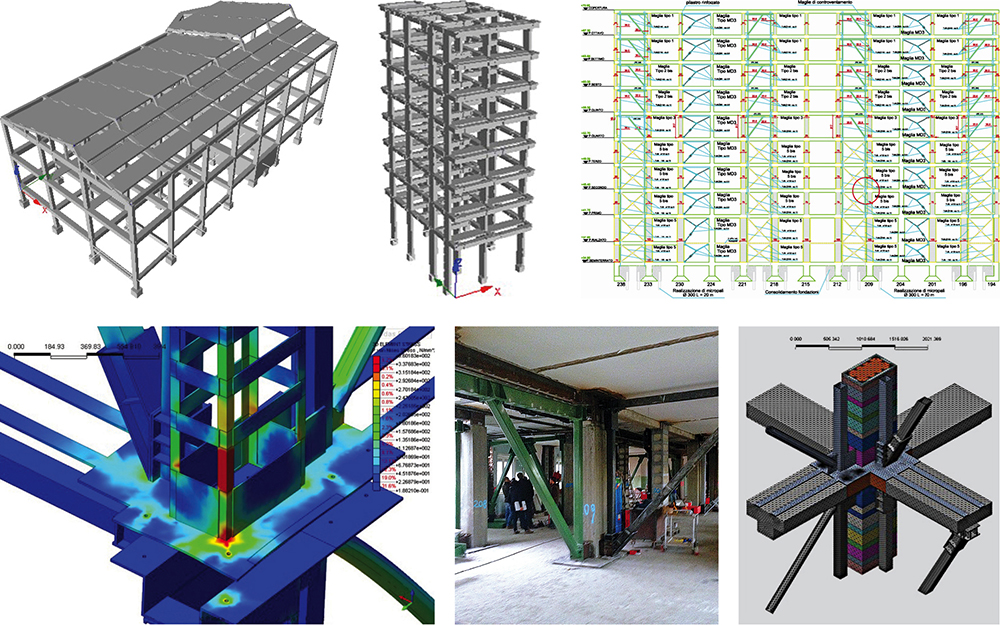 Numerical analysis of existing reinforced concrete structures