Department of Emergency Support
The Department of Emergency Support develops and manages technical support services to the emergency with a view to "prevention and preparedness", and services of rapid response to catastrophic events or for the management of local dimension events, within the perspective of strengthening the awareness and resilience of communities with respect to emergency events.
The Departments deals with studies for risk management and the development of tools to be used for the technical management of the emergency, e.g. advanced data collection tools for damage survey, decision support tools for emergency management, automatic methods of damage recognition through the use of drones, advanced sensor systems and early warning, methods of fast assessment, systems for structural monitoring and for land observation through remote sensing, integrated smart monitoring systems for the safety of first aid operators, support in the drafting of procedures and emergency planning at both local and wide area levels, emergency preparedness assessment.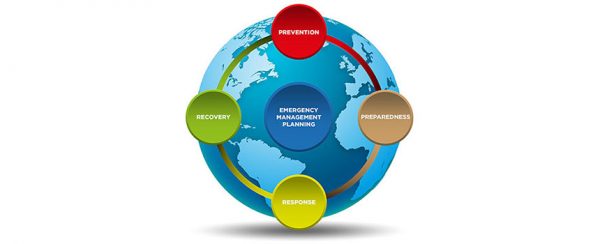 Current available services, based on the tools developed "in times of peace", in order to answer effectively and face emergency, are as follows: real time damage scenarios, inspection of structures and infrastructures, evaluation of ordinary and advanced accessibility, experimental testing of structural and soil characterization, monitoring systems.

Evaluation and support in drafting of emergency plans
EUCENTRE Drone Unit
Over the past few years, the Department has implemented an internal SAPR unit qualifying as Operator for Specialized Critical Operations (CRO, rif. ENAC ITENmPng5B). The system, combining field inspection activities with specialized professional support in-house, thanks to the close collaboration with the Departments of Risk Scenarios and Buildings and Infrastructures, features:
Managing system (CRO operator and procedures):
4 Pilots/technicians payload and 2 experts for technical support, specialized in data analysis, masonry structures, reinforced concrete and precast structures, tanks, structural monitoring, on-site testing and post-event support;
Management and maintenance of vehicles;
3+1 commercial drones (CRO, Specialized, non-critical Operations, harmless, indoor);
5 drones custom at an experimental stage;
Permanent updating (exercises, legislation, applications, etc.).

The Unit deals with
Inspections for the evaluation of behavior of structures and infrastructures;
Survey and fast post-event evaluation of the cultural heritage;
Emergency aerial photography;
Networking in connection with the activities of the Centers of Competence of the Department of Civil Protection.
The Department offers
Activities complemented with the use of drones;
Support to the emergency planning;
Development of Instruments for the management of temporary housing;
Integrated systems for the monitoring of structures and territory;
Support to the experimentation of smart systems for the safety of first-aid operators;
Organization of on-site training in the context of simulated disasters.

Italian and European Projects involving the Department