Department of Experimental Techniques
The EUCENTRE Foundation deals with the design, construction and installation of experimental tools and laboratories for the study of structures, components and non-structural elements.
It is able to realize, for example, multi-axial shaking tables with multiple degrees of freedom, testing systems for dampers and seismic isolators and mobile laboratories for in situ tests.
EUCENTRE offers complete "turnkey" solutions or supports the customer only in some of the following activities:
structural design of the experimental tools;
development and implementation of innovative solutions for the handling and installation of test samples;
design and construction of the hydraulic and actuation systems (e.g. generators, pumps, accumulators, valves, pipes and actuators);
design and implementation of hardware and software systems for the acquisition of measurement signals (e.g. accelerometers, potentiometers and thermocouples) and for the general system control;
installation and testing;
specific training.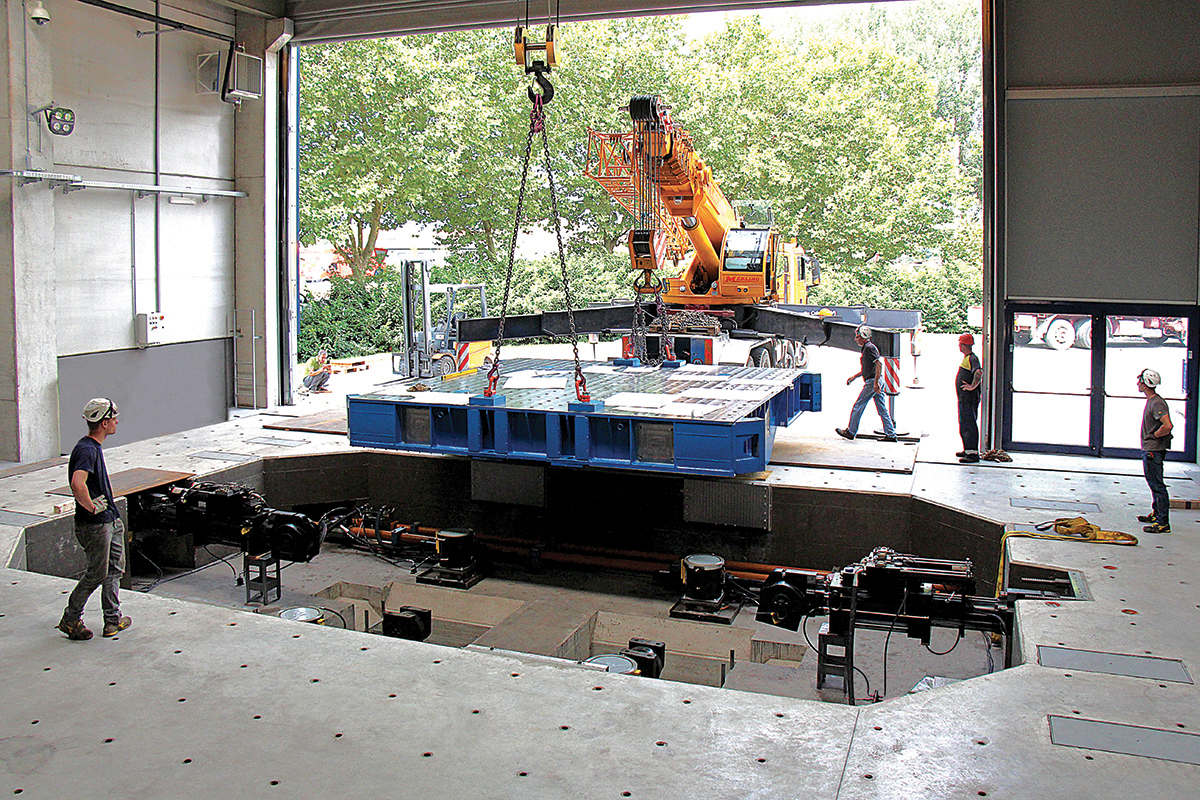 2016-2019, Design and realisation of a 6 degrees of freedom shaking table
The project started in April 2016 led to the realisation of a 4DoFs shaking table in 2017 and a subsequent update to 6 degrees of freedom in 2019. The shaking table is currently operative at the EUCENTRE laboratories and is mainly dedicated to the study of the seismic behaviour of non-structural elements. EUCENTRE has supervised all the phases, from the structural design and modeling of the table, to the sizing and installation of the hydraulic system, definition of the control and measurement hardware and software, to finish with the installation and testing of the complete system.
2017-2018, Design and realisation of the mobile laboratory
The project started in April 2017 led to the realisation of a mobile laboratory. Developed in collaboration with other industrial partners, the project included: i) a truck trailer equipped with a tank, pumps, and cooling system accumulators; ii) four dynamic actuators and related hoses; iii) a mobile unit equipped with electronics and controllers; iv) a power plant; v) system testing. The mobile laboratory, certainly ambitious and innovative, allows for in situ experimental tests of the dynamic response of real buildings and it is available at EUCENTRE laboratories.
2012-2013, Design and realisation of multiaxial test bench
The project started in May 2012 allowed the realisation of a multiaxial test bench for the bidirectional characterization of bearings and isolators. The project included: i) the definition of the pipes and accumulators system; ii) the design and installation of the new biaxial test bench (which had to interface with the existing one); iii) the update of the force measurement system; iv) the control software update; v) the system testing.